My plan to fix our: National Debt, Opioid Epidemic & Healthcare System
National Debt can be reversed by fixing Illegal immigration, The Opioid Epidemic and the Healthcare system. Combined we waste 1.5 trillion per year.
The Opioid Epidemic: First we must realize that what we are doing is not working. Next we must try different solutions or trial programs. I would propose a trial program that takes our addicted and isolate them for one year with just the basics; food, shelter, sanitary conditions and counselling with no medications such as Suboxone or Methadone. The key is to shelter these people in the least expensive way. If possible a military base that can provide security and housing for the least amount of tax payer funds.
Healthcare System: much like the Opioid Epidemic, we must try again. I would propose to build a new bipartisan commission on healthcare as we have done in the past. We need the best and brightest such as: doctors, nurses, universities, colleges and information technology companies with their smart computing platforms and even their artificial intelligence. We need to keep trying until we get a great healthcare system that doesn't lose 750 billion dollars.
Please consider me to represent you. If elected I would address all these issues and propose legislation. Let's not make this about money, lets make this about picking the candidate that most reflects you. Here are some of my principles that I would act on:
National Debt - Our National Debt is unsustainable and is a huge threat to national security. We can solve this by fixing our healthcare system (750 billion wasted per year), Illegal immigration (200 billion spent per year), Opioid epidemic (565 billion per year wasted) and reduce government spending. Sure it's not going to be easy but we must try.
Healthcare - Nationally, 750 billion is wasted every year on fraud and mismanagement. We can do better but, we just can't leave it up to politicians. If elected I would propose a congressional Commission that would bring together Information Technology companies, universities, colleges and physicians to figure out a great healthcare system that would save us

750 billion every year!

We need to do this and I will propose it on the house floor.
The Opioid Epidemic - I am focused on solutions to stop the Opioid epidemic, which is killing 70,000 people per year, destroying families, ruining healthcare, adding trillions of dollars to our deficit and directly causing half of all major crime in the United States. I also want to ban safe drug havens that cities across America are adopting. By fixing this epidemic we can save 565 billion per year.
Immigration - I support President Trump's Policy of legal immigration based on need and merit. I also support the travel bans on untrustworthy countries. we spend over 200 Billion on illegal immigration every year.
Building a wall on the southern border - Until our sovereignty is respected, we need to build and maintain the wall and hope that one day it is not necessary. The cost to build the wall (25 - 75 billion) far out weights the cost of illegal immigration which is over 200 billion per year. The wall is a perfect low-tech solution that solves the problem of illegal immigration and allows border security to do their job at the entry points which stops the drugs from entering our country.
Deporting Illegal Immigrants - I support President Trump's Policy of deportation which is getting gang members and other felons out of our country. Illegal Immigration cost the us over 200 billion per year. The democrats oppose this and are for open borders and abolishing ICE. The democrats don't care of the high cost to taxpayers, the crime or gang activity, they just care about the votes needed to keep them in power. This is why all the sanctuary cities are run by democrats.
Sanctuary Cities - Cities should not be above the law. Cities and illegal immigrants should be held accountable for their actions. Sanctuary cities are giving illegal immigrants drivers and gun licenses and allowing them to vote. Homelessness, drugs, criminal activities are not only being approved but especially during this pandemic is extremely dangerous and is compounding the problem of transmission.
Labor Unions - Better wages, equality and safety are extremely important. I am not for Right to Work laws (which is the breaking down safe working conditions). New Hampshire has had Right to work bills and if passed our highly trained workforce would be paid a lot less and conditions that are required to keep them safe would have been abandoned. Union jobs are proven to have the safest work sites because of the training, tools and equipment and high standards. They also give workers a voice and the right for better work conditions. We need the best trained Union labor more than ever in this high-tech age of construction.
Climate Change - There is a ton of data pointing to climate change as an adverse effect on our planet. I believe that it is at least prudent to ramp up the installations, promotion and export of solar panels and other alternative energies. Unlike the Green new deal, we can do this in a responsible way that can add jobs and manufacturing.
Woman's right to choose - I believe in the woman's right to choose. The other candidates do not. I do not believe in late term abortion, but I do respect Roe V. Wade. This is a big difference between me and the other candidates.
Tariffs - Needed to reset unfair trade practices. I believe the president has this under control.
Responsible Gun Reform - Protecting the 2nd Amendment while securing your firearm against unauthorized access from others, Red Flag law and better background checks is responsible legislation that I would employ. I believe this would ensure that the democrats would drop their attempts to seize your firearms.
Energy and Fracking- All of the above with Renewable energy and methane recovery is the policy I endorse. Methane in our atmosphere is a major contributor to global warming but if collected is natural gas to be used for energy.
Free education or low Student loans - Is an entitlement that I believe we deserve. Unfortunately, we need to take care of our national debt first before we pile on more debt. Possibly free online schooling is possible. A great curriculum can't cost much to produce and distribute. I would definitely work on this if elected.
Alternative Energy - Manufacture and export Solar and other alternative fuels. In years past the government has been terrible about promoting alternative energy. I would definitely work on this effort.
International Crisis - We must confront crisis immediately before it grows out of control such as the destruction in Syria. Ethnic cleansing and massive global migration is the worst case scenario and this is what happened because Obama did not act. Today because of technology, the leadership of our president and our armed forces we have the ability to engage without putting our citizens in harm's way.
I am looking for help to defeat the incumbent democrats.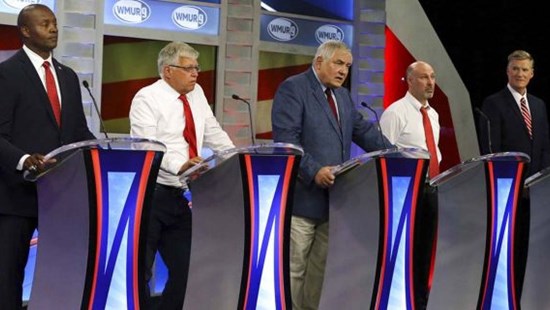 One of my goals is to help Donald Trump win re-election and ensure New Hampshire Democrats are replaced with Republicans that will help pass our President's agenda to keep America Great. New Hampshire has three Democrat members up for re-election this year: Jeanne Shaheen, Chris Pappas and Ann McLane Kuster. They all voted to impeach and remove our President that has done so much for our country. Our democracy is being violated by all the democrats in congress that are consistently trying to defame and remove him from office. We have had three shameful, modern-day coup attempts to take the White House and Senate: Democrats invoke 25th amendment, Russian Collusion and quid pro quo with the Ukrainian president. Even now Adam Schiff, Nancy Pelosi, Chuck Schumer and the Democrats blame Trump for the Corona Virus response. Please help our President get reelected in 2020 and vote our all Democrats.
After this Covid 19 pandemic is over I hope this republican administration is at the helm to bring back our economy. I also would like to thank our president for bringing together the best and brightest to get us through this terrible pandemic.
One of the best ways we can help our President is to vote in Republican members. I am asking for your consideration and support. If you like my stance on the issues and wish to help my campaign, then please contribute so that we can put up more signs across New Hampshire and get out the word to replace the Democrats who wish to remove our great president. Although my campaign does not have deep pockets, we can still put out our message, and voting is free. In November 2020 Please vote Trump Pence for four more years and vote in Republicans such as myself so we can continue to make America Great.